Herff Jones takes pride in creating college graduation rings for students and graduates of Barry University. Reward yourself with a symbol of excellence by selecting the Barry University ring which suits your style, experience and achievement.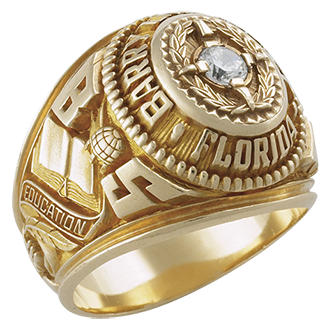 Since Barry University first opened its doors in 1940, Herff Jones Inc. has been creating rings for the many students and Alumni. Commissioned to design the first ring, Herff Jones worked with a committee of faculty and students. The committee wanted a ring that was unique to Barry University that would be recognizable throughout the country.

The first ring was a rectangular style that ran vertical on the finger and featured a black onyx stone. The ring could also be ordered with an incised or encrusted BC. The sides of the ring featured the new Barry shield. After almost 70 years, the first ring style designed is still available today.

When the University went co-ed, a collegiate style as well as a signet style ring were made available in both men's and women's sizes. The name on the ring was changed from Barry College to Barry University by action of the Board of Trustees in 1981. The shield has not changed since its inception in 1940.

The Barry shield is a combination of the coat of arms of Bishop Patrick Barry and the Dominican order. The three books symbolize the acquisition of knowledge. The Bishop's escutcheon was moved to the dexter or right side of the shield, because in heraldry, this is the position of honor. The Dominican shield forms the sinister or left side of the shield and indicates that the University is a Dominican foundation.