Herff Jones takes pride in creating college graduation rings for students and graduates of the University of Central Florida. Reward yourself with a symbol of excellence by selecting the University of Central Florida ring which suits your style, experience and achievement.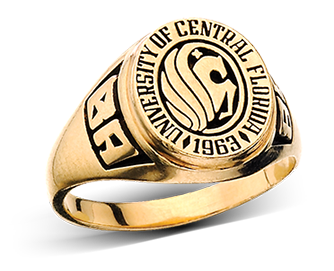 HURRY! ORDER NOW TO RECEIVE YOUR GOLD DEEP DISCOUNT OFFER:
$200 OFF 10K Use Code: HJUCF200
$250 OFF 14K Use Code: HJUCF250
$300 OFF 18K Use Code: HJUCF300
$40 OFF ULTRIUM Use Code: HJUCF40
THESE CODES WILL EXPIRE AT MIDNIGHT June 1, 2021. GET YOUR CUSTOM RING NOW!